7/30 Heart Lake to Piute Creek Bridge
9 Miles
We slept in this morning after our crazy night going over Selden Pass at 6pm.  I am pretty sure I heard Steve and Emma pass us around 7 am.
Breaking camp at 9 am this morning, Kevin told me he wanted to quit. He told me he feels he is dragging me on the trip.  I told him I didn't want to quit plus even if we tried to exit it was three days hike just to get out.  So we hugged and resolved to finish the damn trail.
After Heart Lake came Sallie Keys lake, a pair of twin lakes.  The trail ran right through the lakes across little land bridges. We ran into Cordelia and Holly who we hadn't seen in a long, long time. They were munching on pop corn and chocolate covered espresso beans as they had just resupplied at Vermillion Valley Resort. They graciously offered me some of their chocolate covered espresso beans. Amazing.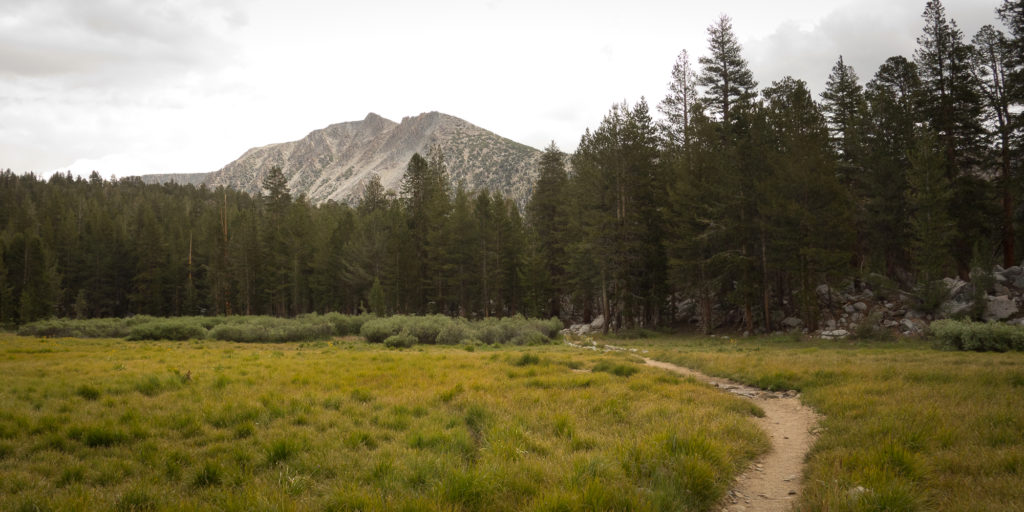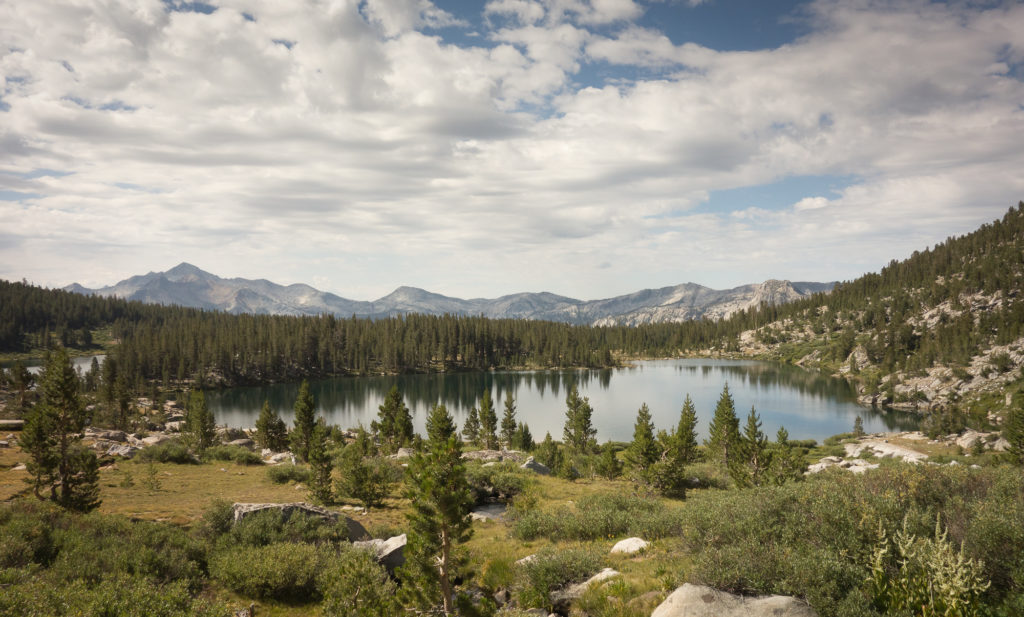 From the lakes the trail winds through a pine forest and then opens up on top of a big old ridge with switch backs that lead down to Muir Trail Ranch. About 2,600′ of down. I got blisters on the front of my toes from all that down.  One of the guys we've been hiking along side, Dave, calls downhill such as today's "toe jammin".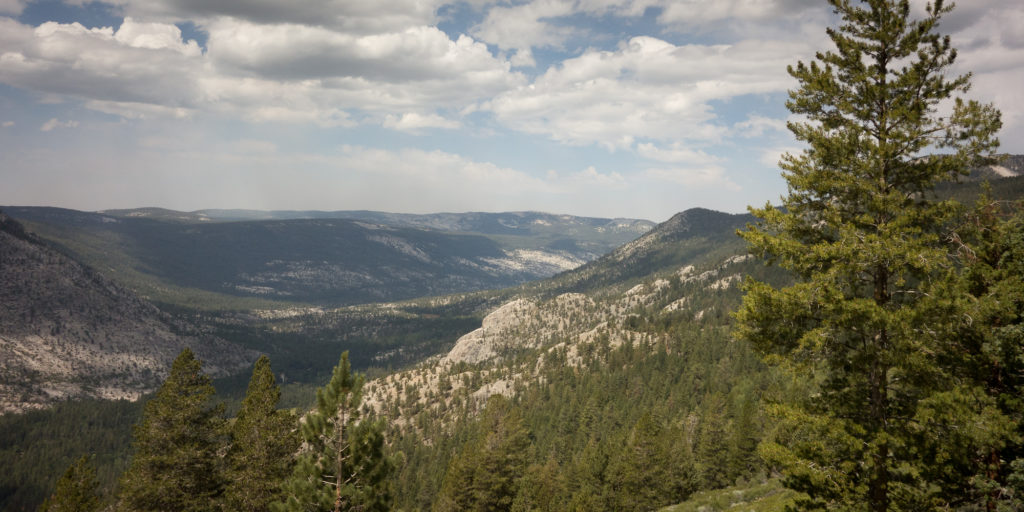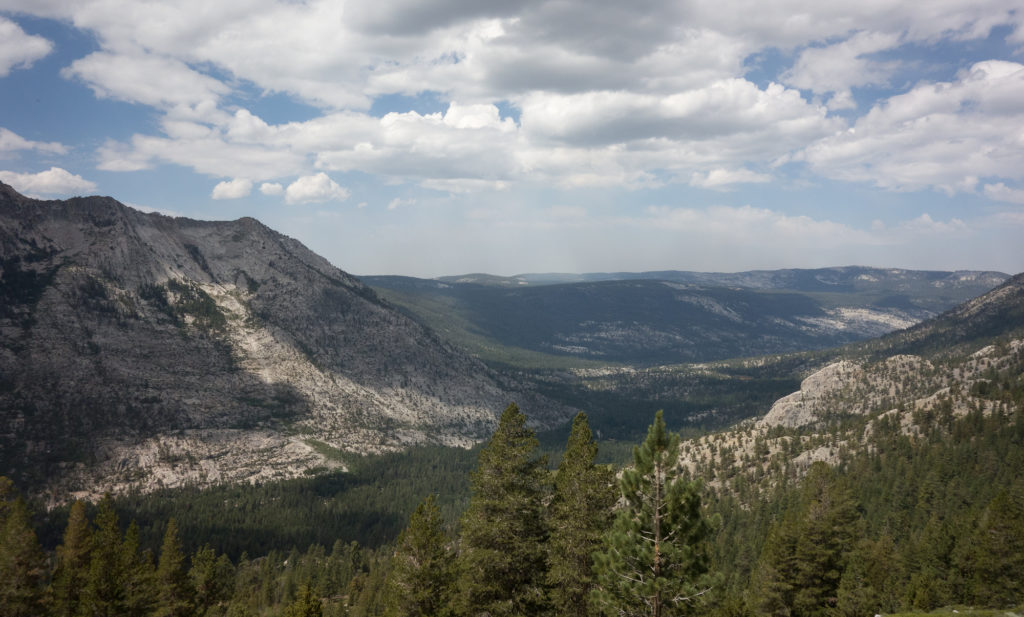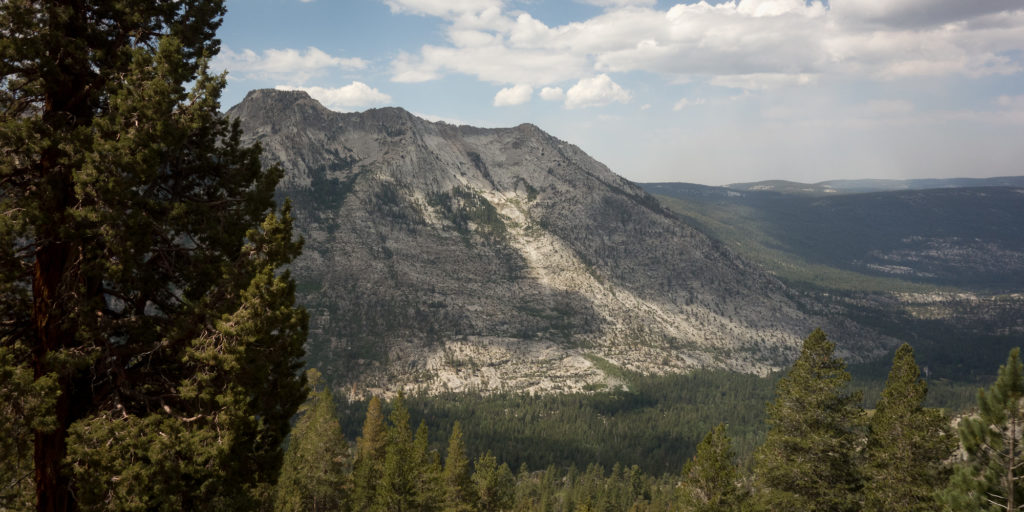 We made it to Muir Trail Ranch just before 1 pm and began the process of organizing our re supply food and gear.
And now for a slight side story about how we got our resupply bucket to Muir Trail Ranch.
We made the decision to de-hydrate and make our own camping meals rather than purchasing store bought. This seemed like a great idea until we tabulated out how many hours of de-hydrating were needed to produce the food we planned to consume. Basically we were already late in getting our meals assembled to make the cut off date to mail the resupply bucket to Muir Trail Ranch in order for it to make it to us in time. MTR is no where near a road. The buckets are mailed to a post office, then driven to Florence Lake, ferried across said lake, then loaded on a mule team and hiked the last 5 miles to MTR.  Since we missed the mail by date, we had to drive to Florence Lake directly.  Which is a mere 5 hour – 220 mile drive south. The last 20 miles of which was a single lane, hardly maintained road. It was an adventure to say the least. While a long drive, Florence Lake was gorgeous.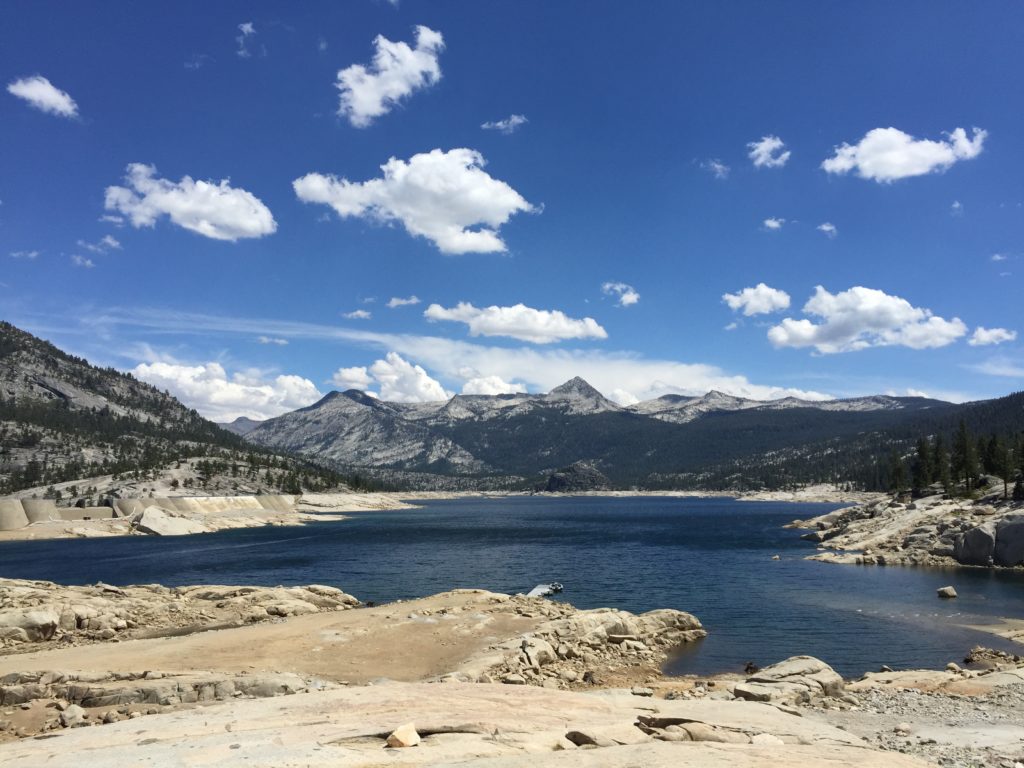 So back to the process of doing our re-supply.  Upon reaching MTR we rang a bell, filled out a form, gave up I think $40 bucks, and the MTR help fished our bucket out amongst many others from the shelter.
Then we began the process of pulling everything out of the Home Depot bucket, our two bear cans, and re assembling everything for the next 10 days back in. We also rummaged through the bountiful hiker bins and found SO MANY GOODIES. More Dr. Bronners Soap, gatorade mix, lotion to rub on my feet, and many other amazing and weird things. We ditched a couple salami, 1 bag of oatmeal, tortillas, and wedge of parmesan cheese as we just aren't eating those. Since Kevin picked up the kevlar bag way back in Mammoth Lakes we are going to pack extra food for our final stretch and hang the food in the bag at night.  The bear cans are rated to hold 8 days of food and with the sack we have enough for 10. I doubt we will need 10 and can probably finish the trail in the next 8 days but we really don't want to risk it.  After Muir Trail Ranch the trail gets very remote. To even leave the trail and head out the eastern side takes three days hike.
Just like Red's Meadow, I re-assembled our food in our bear cans as I seem to have the magic touch to cram all the food in. My pack weighed in at 28 lbs, Kevin's at 31 lbs.  There were many folks who had 50-60 lbs packs hiking with us. Granted we didn't have camp shoes, camp chair, solar charger, but . . . my back didn't weigh 50 lbs.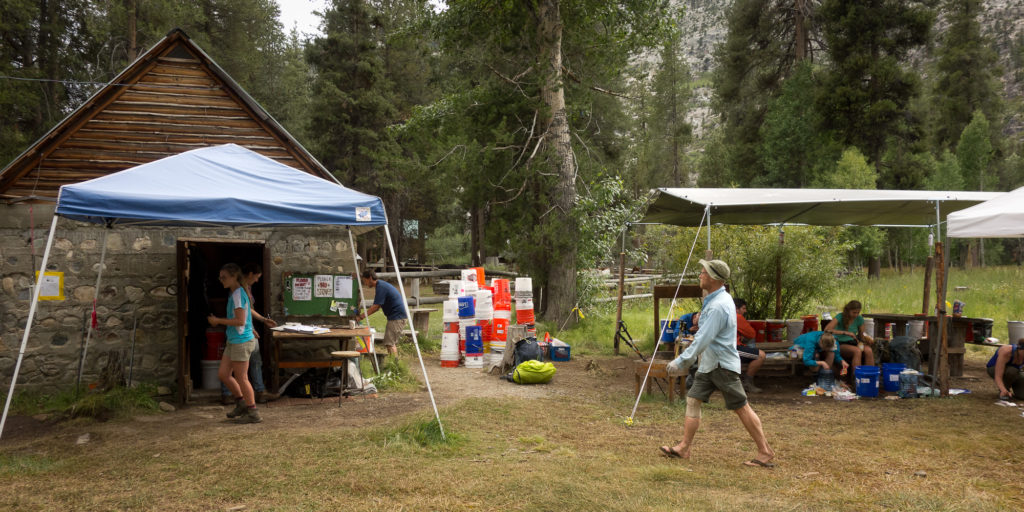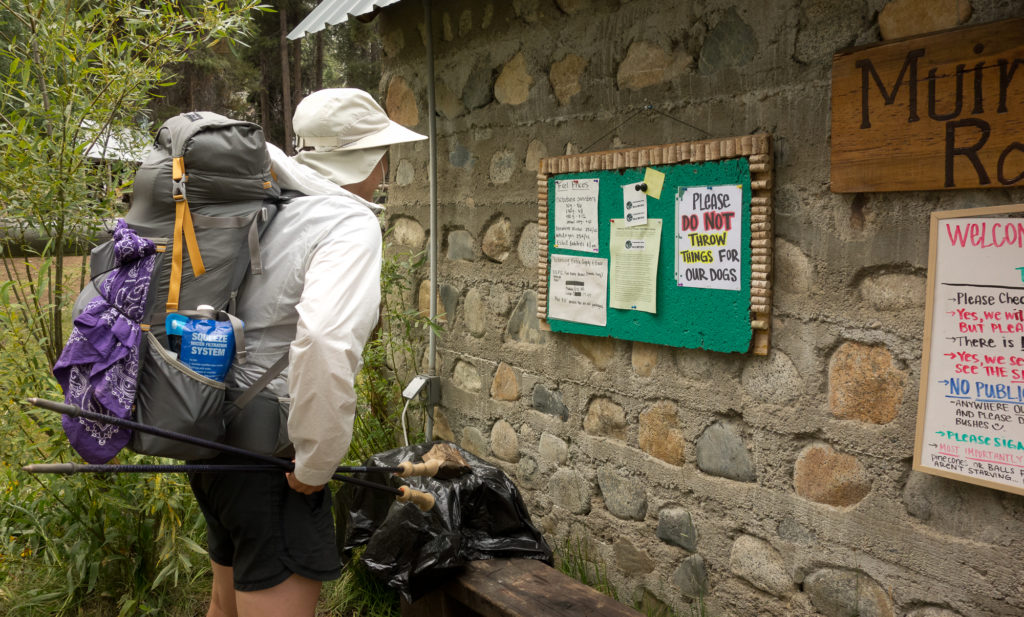 Fully loaded, we marched on towards Piute Creek Bridge and Kings Canyon. The packs felt so very heavy and with every step I had to remind myself that with eating dinner and breakfast the pack would feel lighter tomorrow. Just keep walking, just keep walking, just keep walking . . .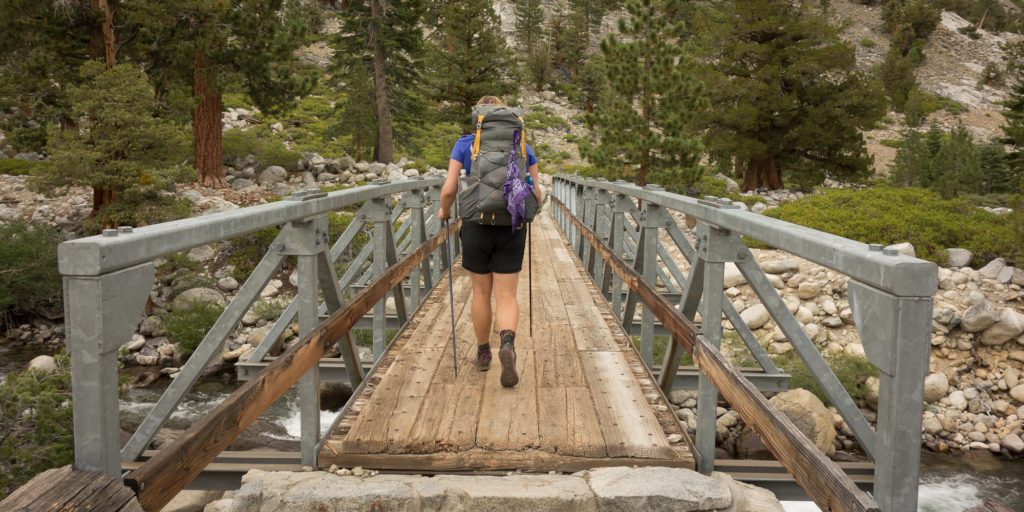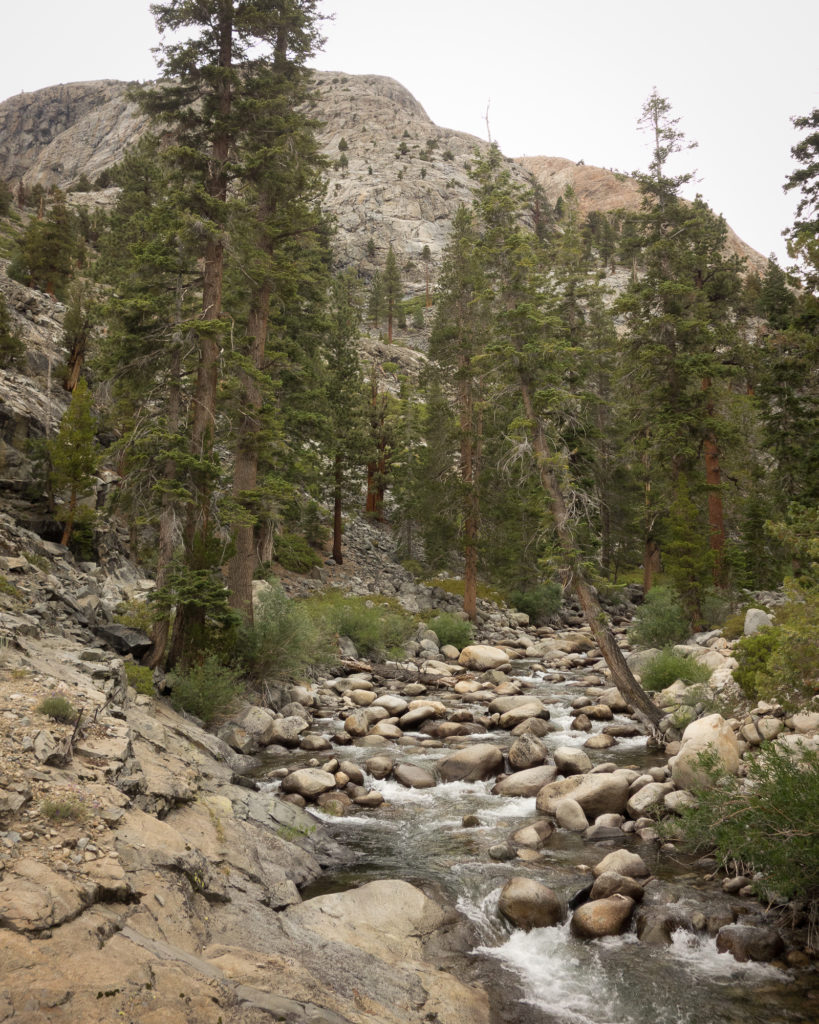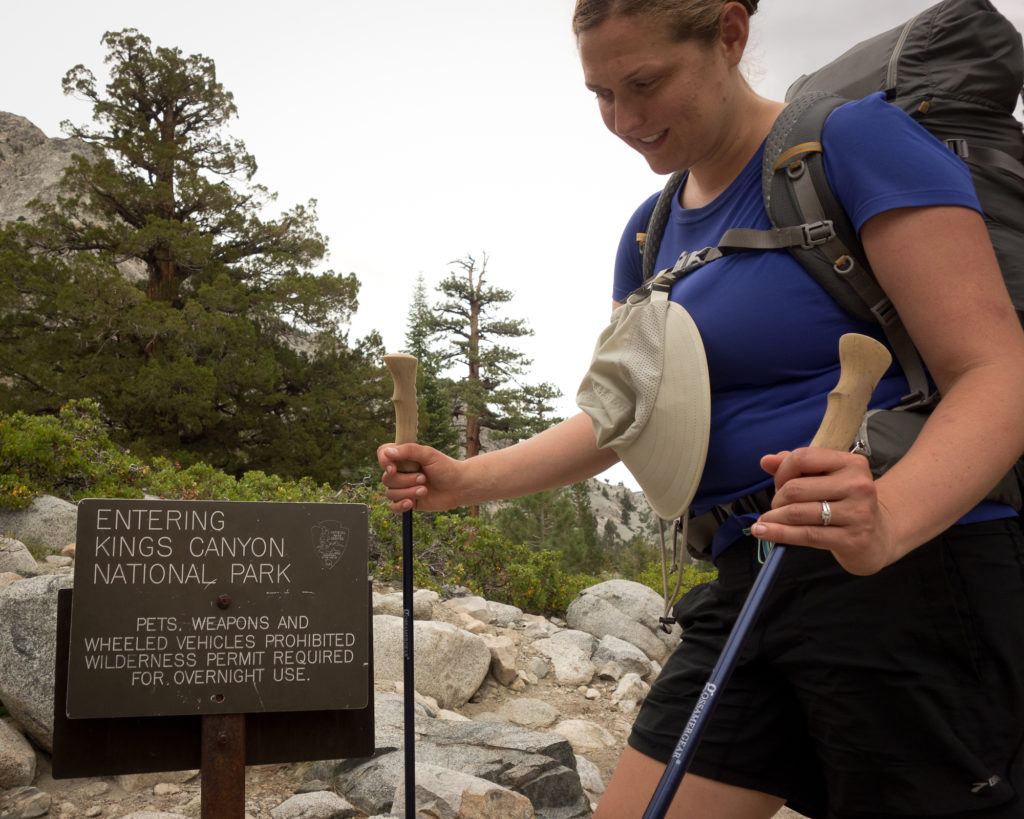 After crossing the creek we came across our group, Steve, Emma, Dick, Manuela, Dave, among others.  It seemed as good a campsite as any other so we set up for the night.