7/28 – Lake Virginia to Pocket Meadow
12 miles
Lots of elevation
So we didn't go as far today :).  I credit that to way too much up and down elevation and the fact that I think I cooked myself in the sun going over Silver Pass.
Once again, Lake Virginia was just stunning.  The water was flat and glossy in the morning.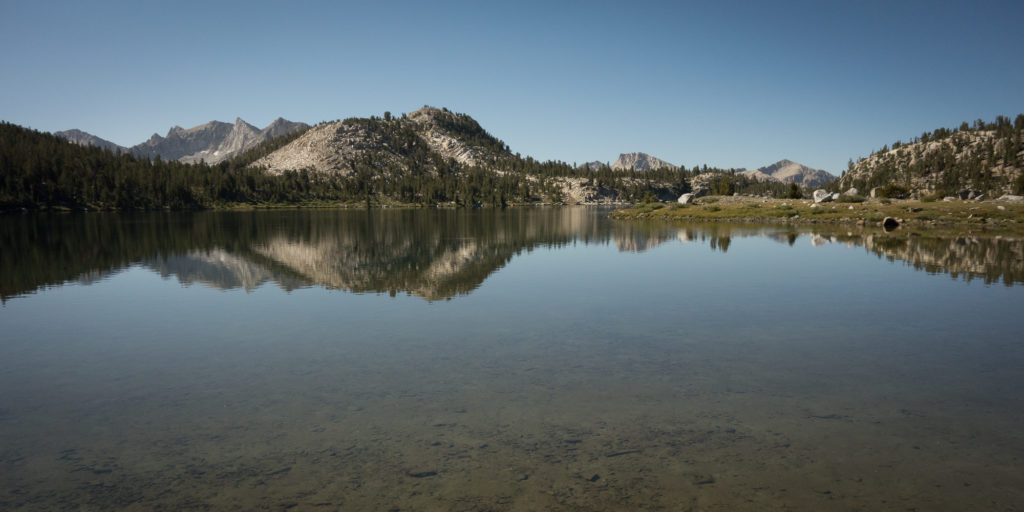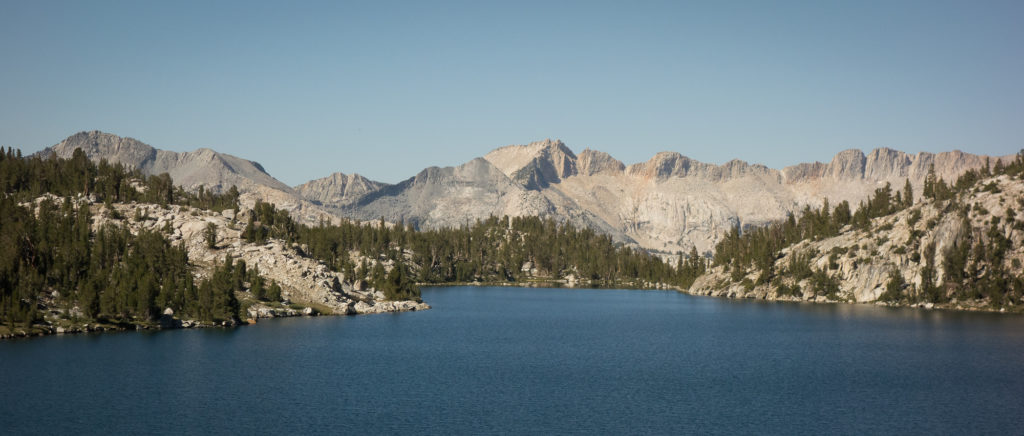 After breakfast and packing up, we started our way down to Tully Hole.  Meaning we dropped from 10,330′ to 9,000′ in one mile, only to climb back up to go over Silver Pass at 10,900.  We could see Silver Pass in the distance and I wished for a long glass bridge to span over Tully Hole so we didn't have to lose and gain the same elevation. Oh well. Such is the joy of the John Muir Trial, go up just to go down again :).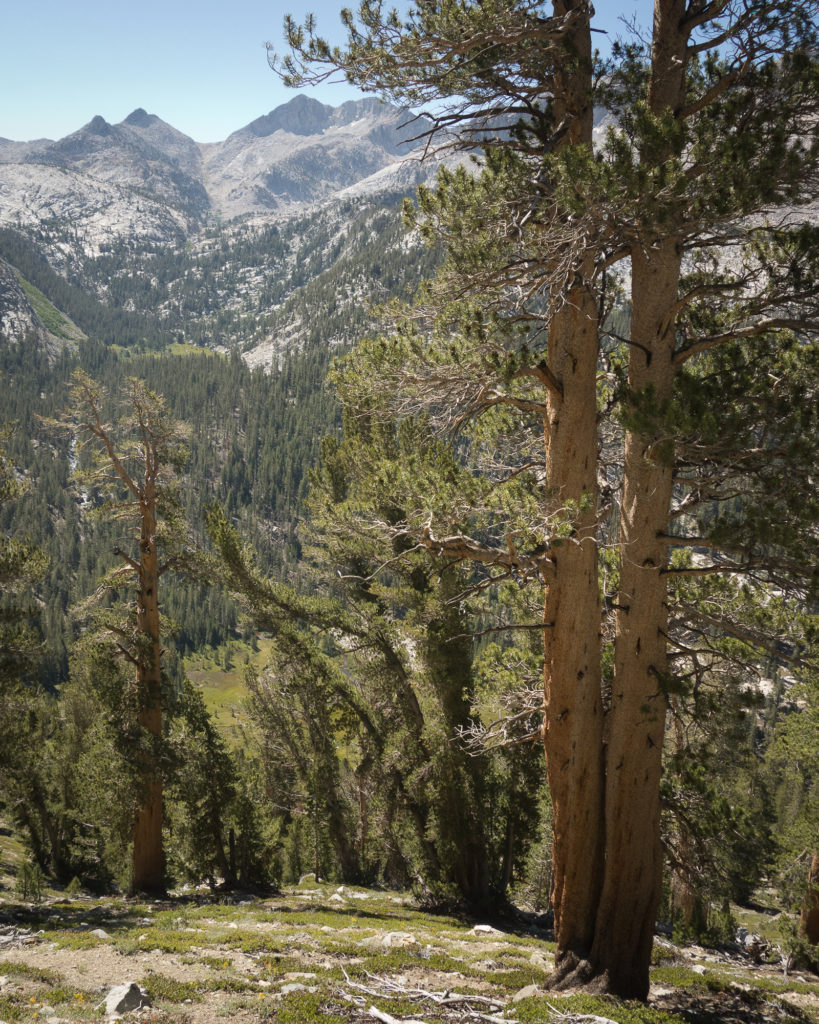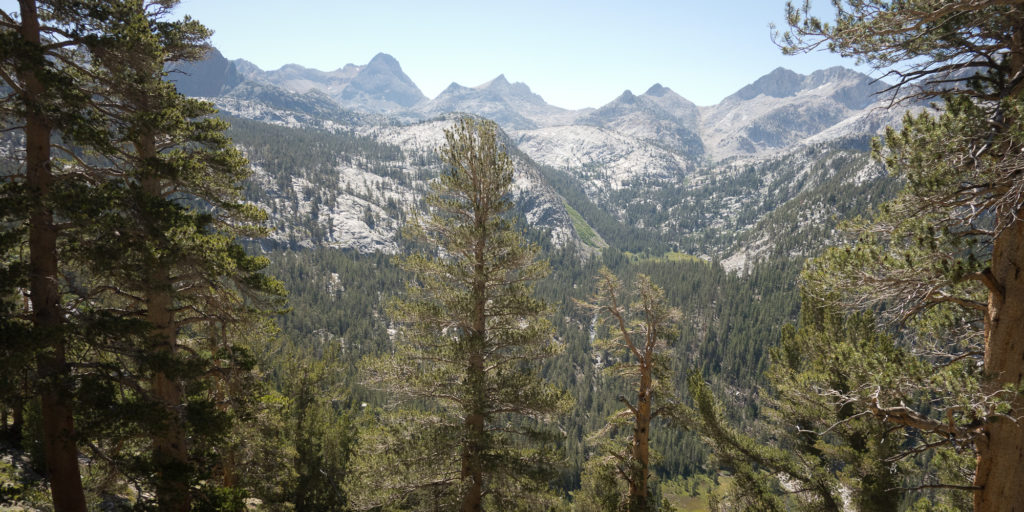 Once we made it down the lovely switchbacks to Tully Hole we followed along Fish Creek amongst small meadows with flowers, pines, and flowing creek. Soon we started climbing again towards Silver Pass.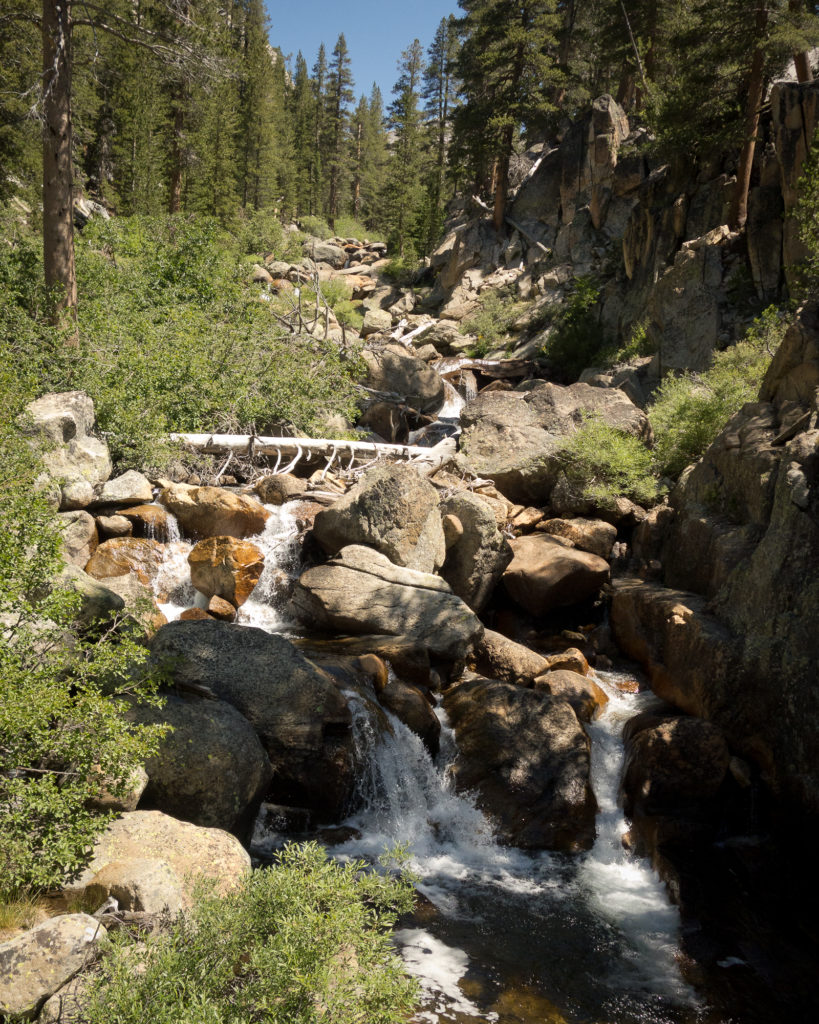 We made it to Squaw Lake by lunch time and found a nice flat rock to set up our cook kit. We were completely exposed that high up so Kevin pulled out his Montbell ultra light umbrella to give us some relief from the sun.  We did a bit of laundry (which we do every day, I just forget to journal about it cause it's not the prettiest thing to talk about), I drained some new lovely blisters on my toes, taped up my feet, and pumped more water before making the push to the top of the pass.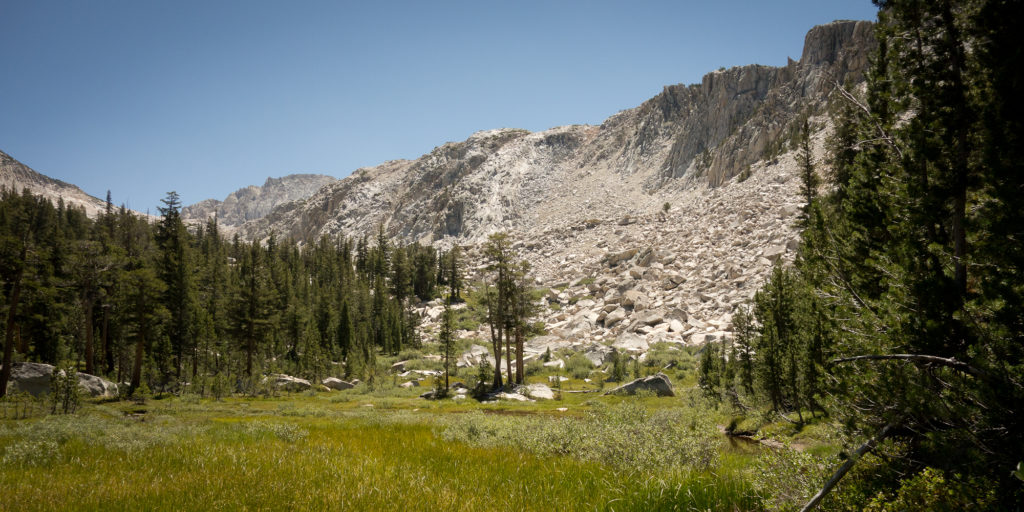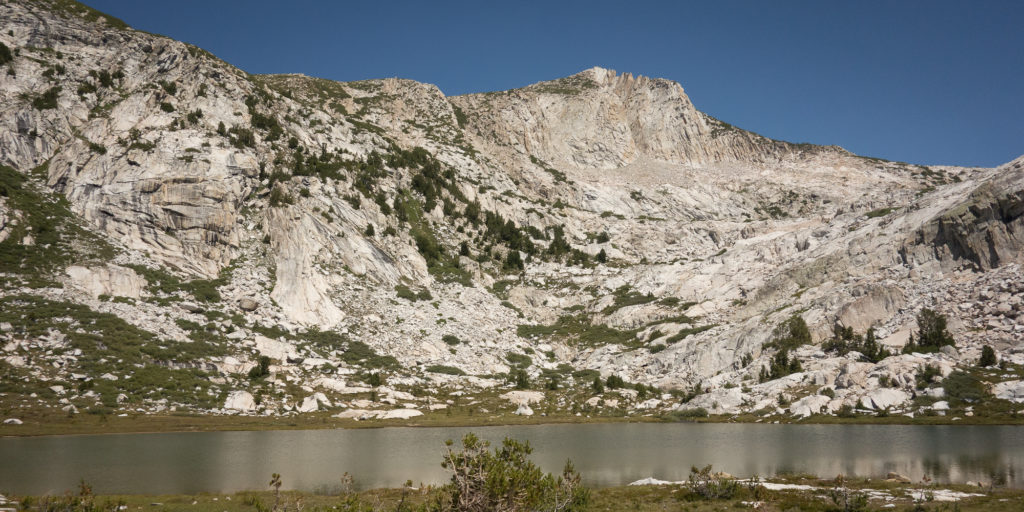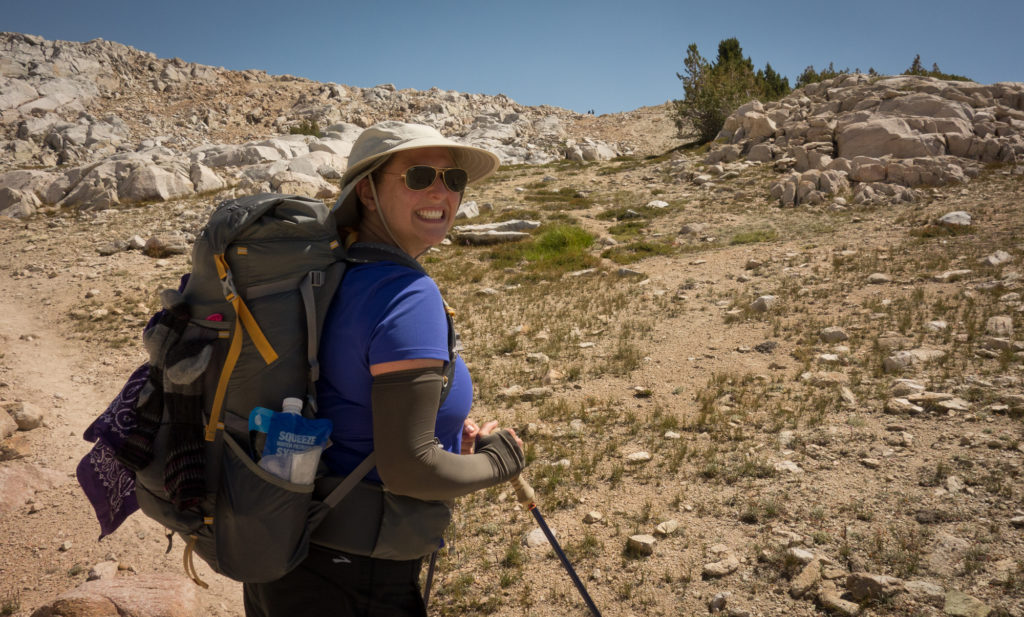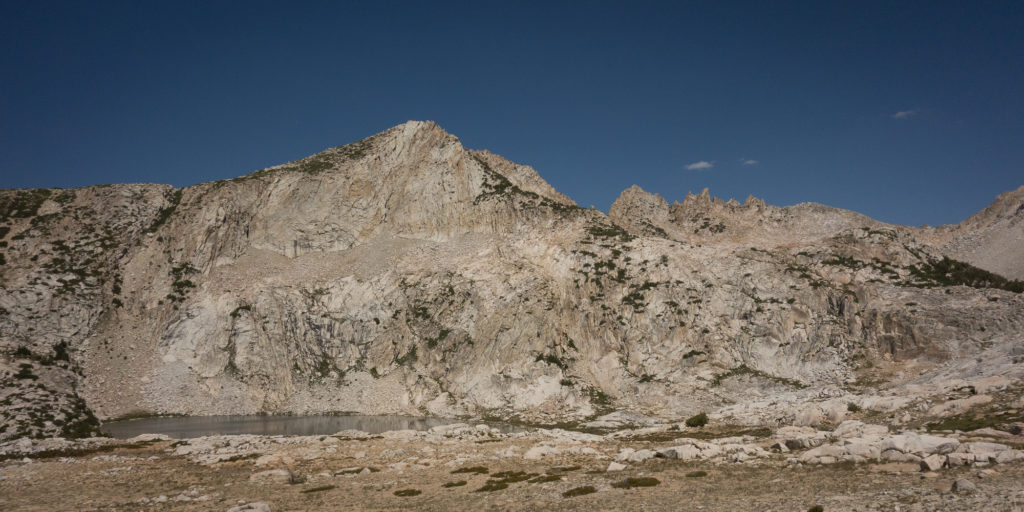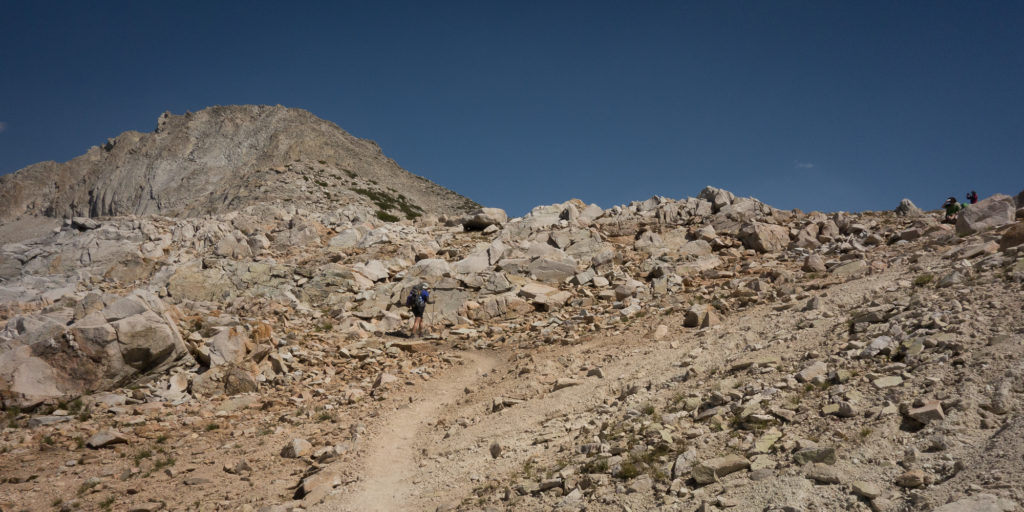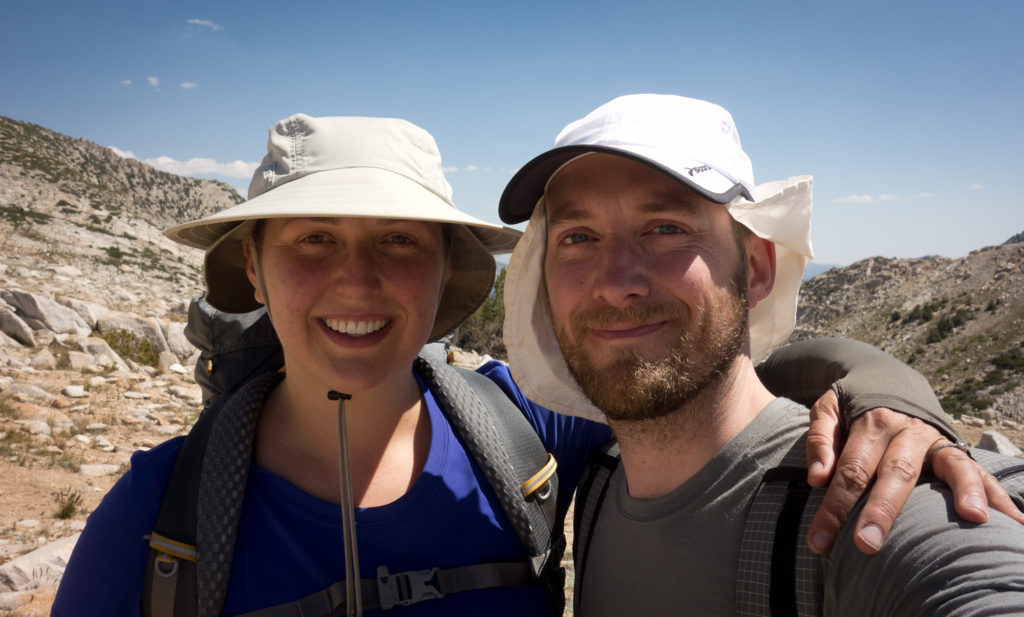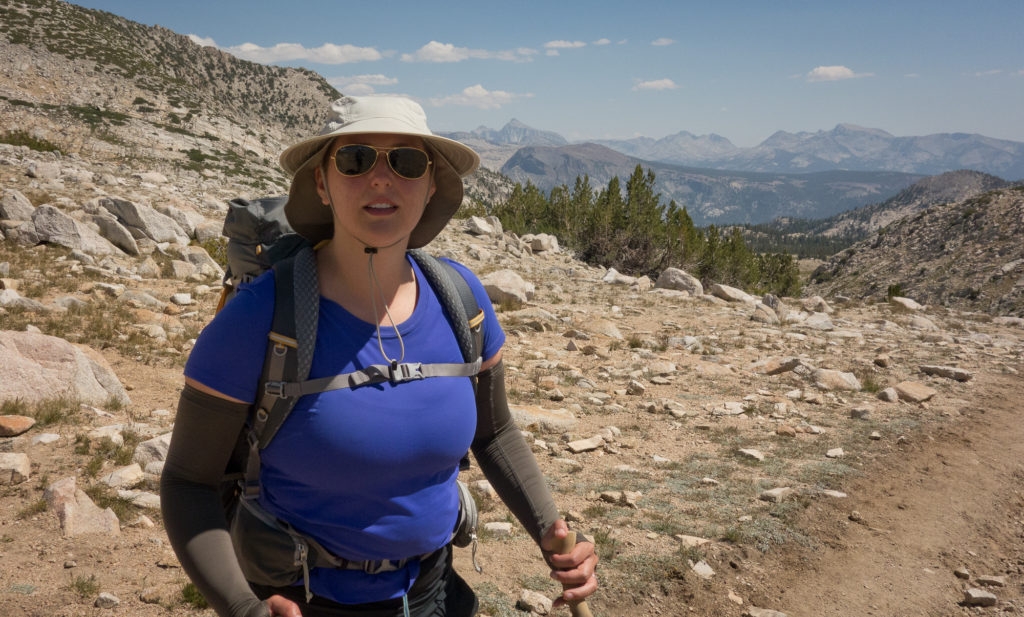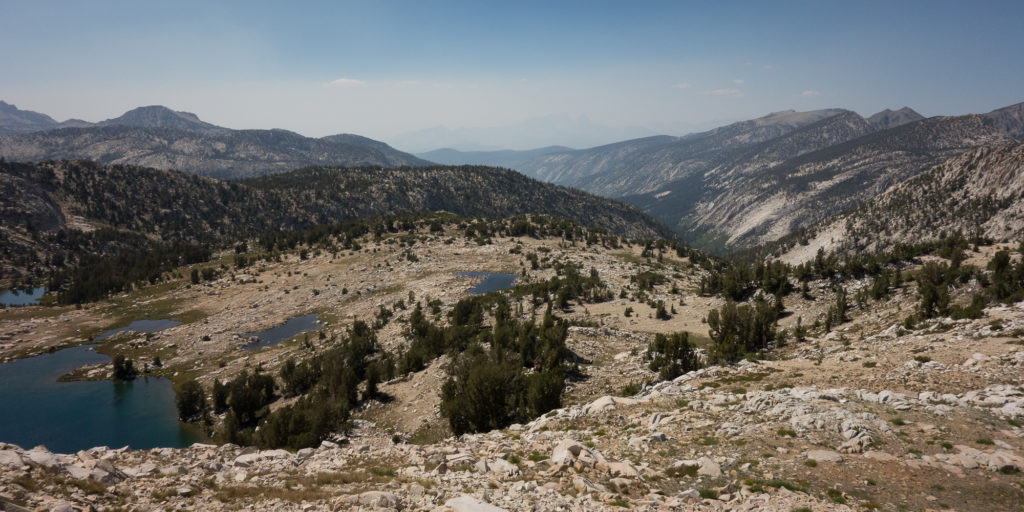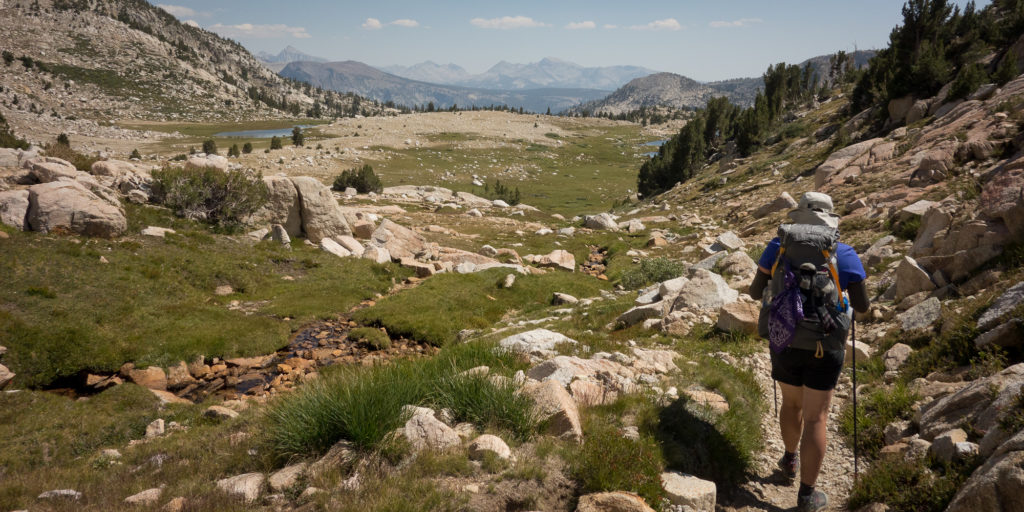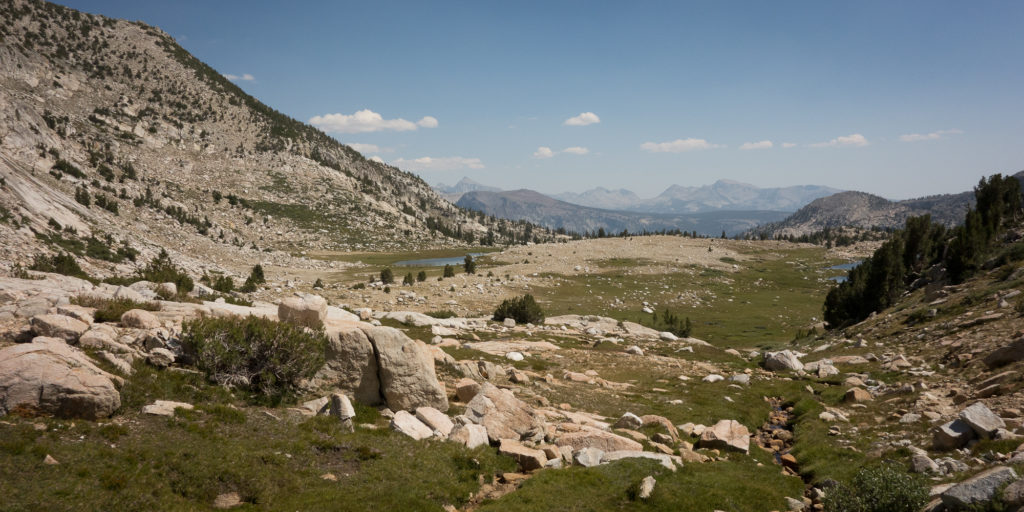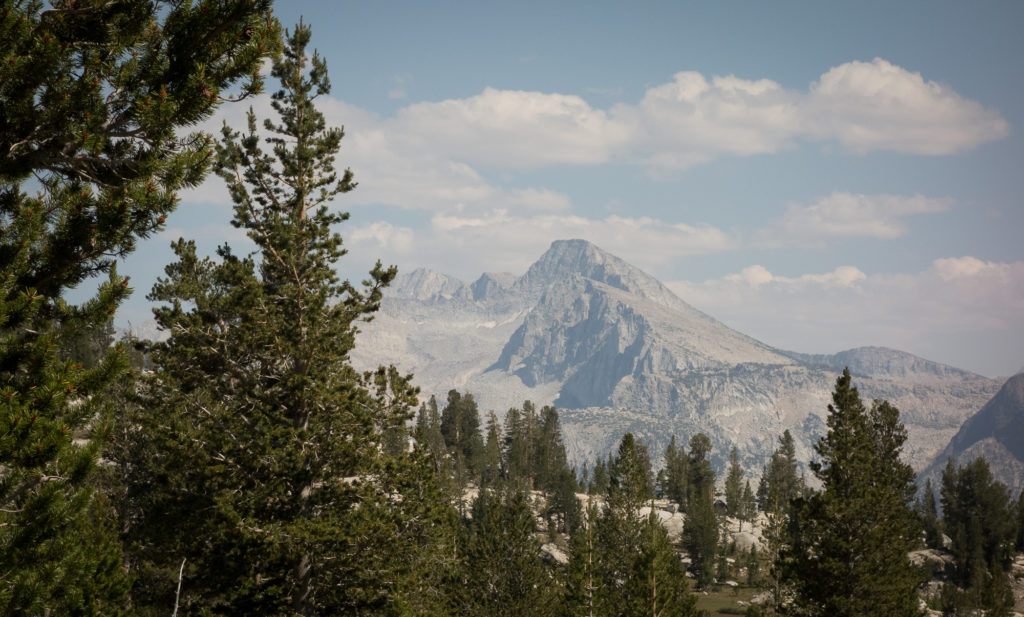 After Silver Pass we dropped a lot of elevation, close to 2,000′ to our camp that night. I really think I cooked myself going over the pass in the sun cause I stopped talking (which is abnormal). Kevin noticed and got me to drink a bunch of water. I even managed to get a bloody nose later in the afternoon.
The trail followed Silver Pass Creek for awhile and we had some steep switch backs along side a sweet waterfall which we don't have a picture of.  We passed through Pocket Meadow which was very cool and filled with loving mosquitos. I think I am up to 50 bites by this point. They love to bite my fingers. Thanks. In case you are curious we opted against DEET and instead wore Patagonia Houdini pants or wind jacket which the mosquitos can't get through.  I would rather sweat in the wind jacket than coat myself in DEET that really only lasts for 15 – 20 minutes tops before you have to re apply.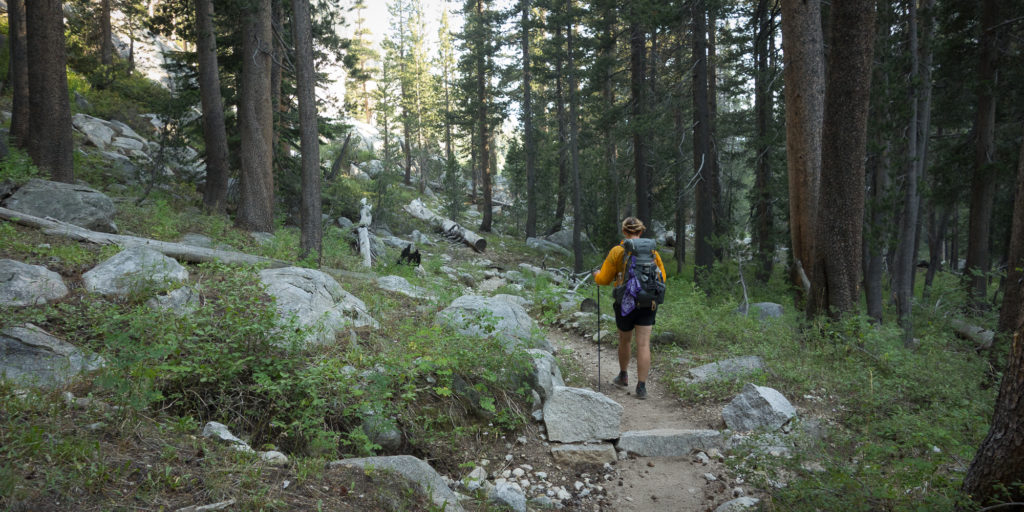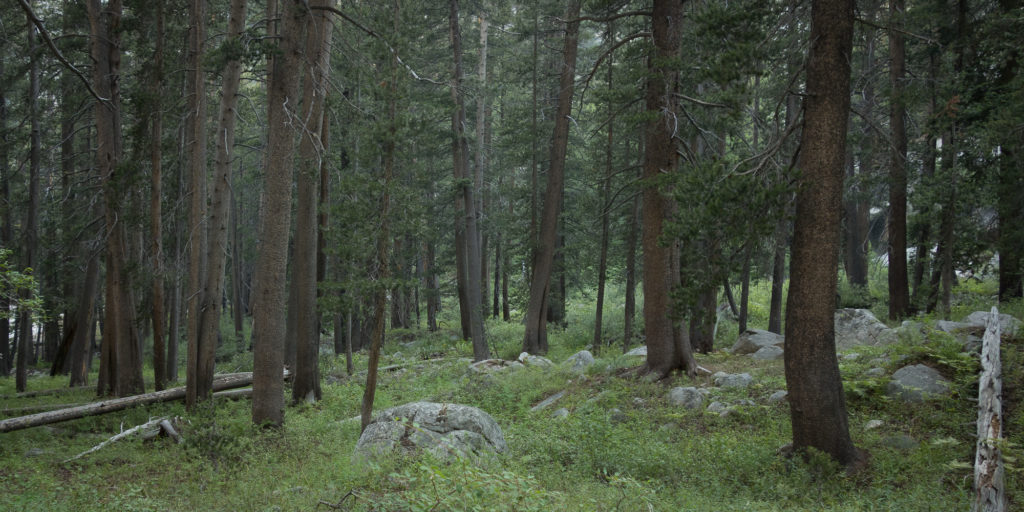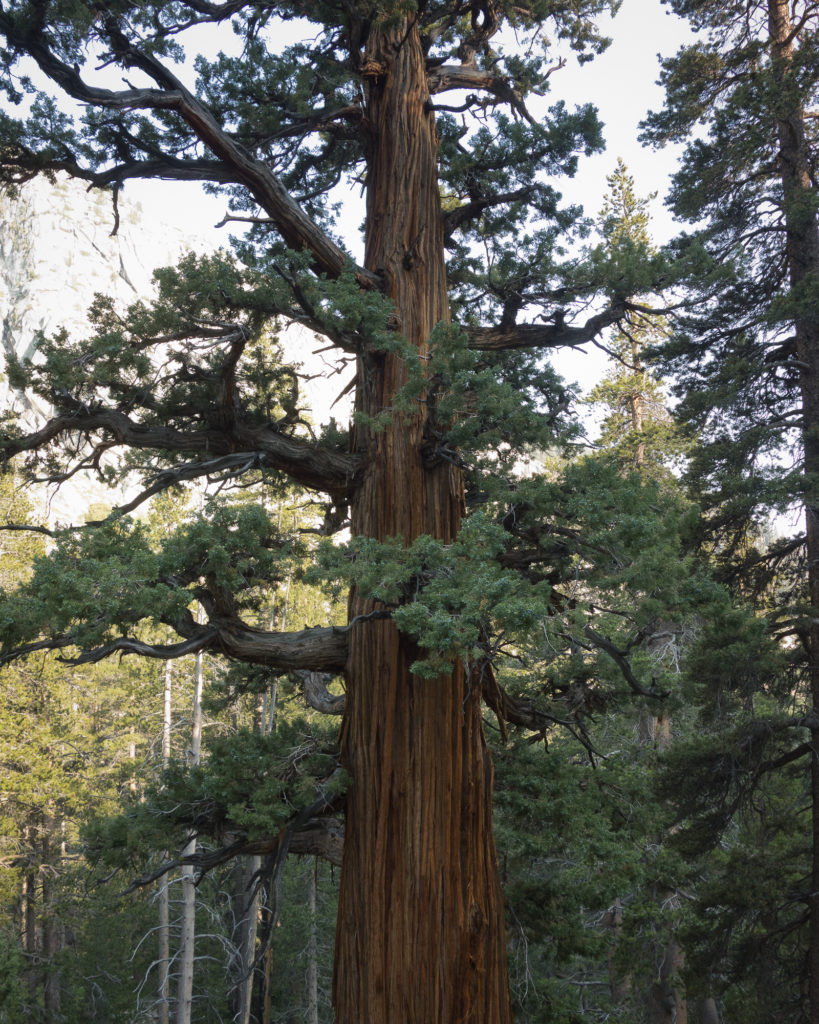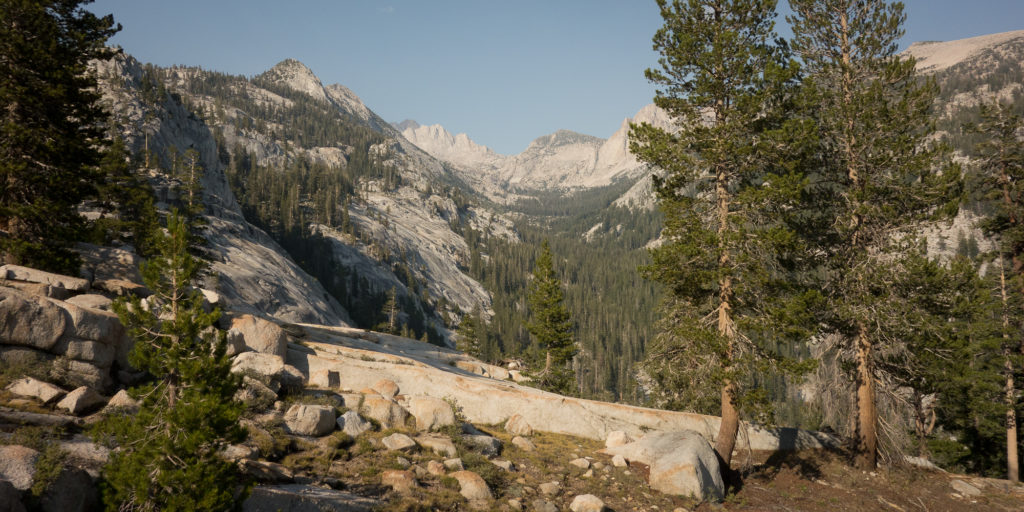 We originally thought we were going to clock 14.8 miles and make to to the Vermillion Valley Resort cut off, but it was getting late in the day and we found a nice bluff to set up home for the night.  We had a fantastic view down into the Valley and the cliffs we were going to climb the next day :).