I love Pt. Reyes. It has all the good parts of a hike in my mind: big trees, beach, babbling creeks, fog, waterfalls, bunnies, and ice cream sandwiches at the end of the day. We've actually done this loop twice, once on Valentine's day, and again on June 6th.
We pick up the trail at the Bear Valley Visitor center. Coming from Oakland the drive takes at least an hour twenty to get out there, not counting the stop at Mollie Stones for sandwiches and snacks. There is no fee to park, which is nice. From the parking lot we set out on the Bear Valley Trail, which is a nice, very low grade, path.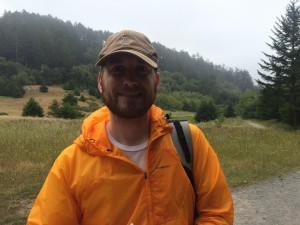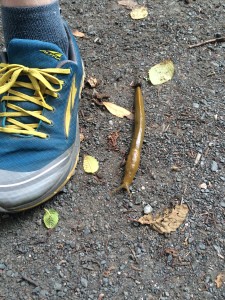 It picks up a bit of elevation and then drops back down to the beach. From there we turn right and pick up the coast trail, which believe it or not, follows the coast line for a couple miles.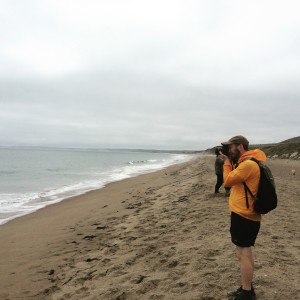 We stopped for lunch at the Coast Campground, just past 8 miles into our hike. A Boy scout troop was set up, playing football, leaving their food out for the crows to steal, etc, etc. The beach was nice and fogged in. While I could hear the fog horn clearly, I could just barely make out Pt. Reyes Lighthouse in the distance.
From the beach we turn back east and head up the Fire Lane Trail. It's a good climb of about 800 feet.  We spotted coyote but I didn't get a shot of him before he disappeared.